From PyroGuide
Edit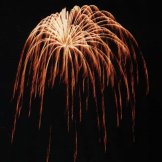 Silver willowIn fireworks all uses of the term 
Willow
 are related to the tree of the same name either directly or indirectly.
Willow wood is a common wood of choice for making Charcoal for the production of Black powder. This is because it is an easy wood to find in almost all places in the terrestrial world, and the quality Black powder that willow charcoal produces.
Willow shells are named after the distinctive branching style of the willow cultivar Salix sepulcralis, or Weeping Willow. Willow shells have long burning streamer stars with a burn time of approximately five to ten seconds, depending on the size of the shell. Willow shells can be filled completely with stars, leaving room for burst in the remaining gaps between the stars. Willow shells typically have a very soft burst compared to a Chrysanthemum of the same size. While Willow shells typically have slow burning charcoal streamers, other streamer effects can be used instead.
Willow is also the name of a composition published by Takeo Shimizu in his doctoral thesis, later published as a book: Fireworks the Art, Science and Technique. Many other compositions, which are also designed for use in willow shells are also given the same name.
Ad blocker interference detected!
Wikia is a free-to-use site that makes money from advertising. We have a modified experience for viewers using ad blockers

Wikia is not accessible if you've made further modifications. Remove the custom ad blocker rule(s) and the page will load as expected.