From PyroGuide
Edit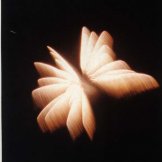 Palm effectA shell containing a relative few large 
comet
 stars arranged in such a way as to burst with large arms or tendrils, producing a palm tree-like effect. Proper palm shells feature a thick rising tail that displays as the shell ascends, thereby simulating the tree trunk to further enhance the "palm tree" effect. One might also see a burst of color inside the palm burst (given by a small insert shell) to simulate coconuts.
A related effect on more complex shells is a Palm Core.
Ad blocker interference detected!
Wikia is a free-to-use site that makes money from advertising. We have a modified experience for viewers using ad blockers

Wikia is not accessible if you've made further modifications. Remove the custom ad blocker rule(s) and the page will load as expected.